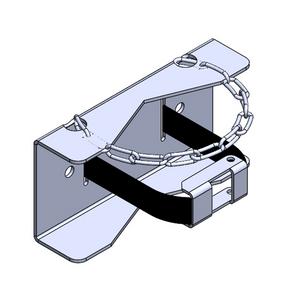 ---
Call 1-909-401-2914 to order or request quote by phone.
---
The gas cylinder wall mount bracket is fabricated out of 11ga thick hot rolled steel. It accommodates cylinder from 4" to 12" dia. and can hold 1 cylinder. The cylinder is secured in place using the 1 ½" wide polypropylene straps with cinch buckle. The steel reinforced vinyl grip provides edge protection and better grip for the cylinders. The brackets are powder coated for chemical resistance and rust protection. The cylinder brackets are durable, long lasting, light weight and easy to handle.
Optional chain sets can be added for additional support.
Color:
Gray color readily available in stock, other custom colors offered, please call to check availability.
Lead time:
Product is made-to-order and ships 1 - 2 business days from order date.
Cylinder capacity: 1
Cylinder diameters supported: 4" - 12"
Built from 11 gauge hot rolled steel
Powder coated finish
Edges protected with steel reinforced vinyl edge guarding
1.5" Polypropylene straps and cinch buckle included
Chain sets (optional) can be added for additional support
Meets USGS high seismic hazard zone requirements when installed properly
Dimensions: 8" wide x 2.25" deep x 4.25" high
Product Weight: 3 lbs.
Made in the USA
Pick a location free from vehicle traffic, excessive heat and electrical circuits. It should be a dry and well-ventilated area.

Use 5/16" (9mm) hardware. Select the appropriate fastener type based on the wall construction. For concrete and concrete block use at least 2.5" long concrete anchor bolts. For wood walls use wood screws and flat washer. If mounting to drywall use appropriate size anchors. Locate the straps and buckles before installation, the bracket will press the strap against the wall to help prevent someone from unthreading the strap from the bracket. Use 2 fasteners to attach bracket to the wall.
 
Didn't quite find what you were looking for? You need a different color or different dimension?
We're here to help. Please call us at 909-401-2914 or send us an e-mail to sales@karanandassociates.com.