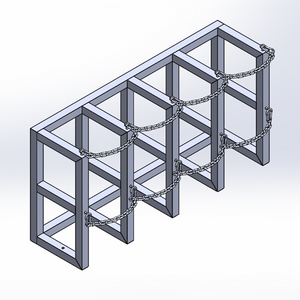 ---
Call 1-909-401-2914 to order or request quote by phone.
---
Gas cylinder barricade rack is fabricated out of tube steel 2" x 2". It can accommodate cylinders up to 12" dia. and can hold 4 cylinders. The cylinders are encased with seam welded tube steel and secured at front using 2 levels of chains and snaps. Holes are provided at bottom leg for permanently anchoring to floor (Please order anchor bolts separately). Helps comply with OSHA, NFPA 1, NFPA 55, and CGA.
Color:
Gray color readily available in stock, other custom colors offered, please call to check availability.
Lead time:
Product is made-to-order and ships 2-3 weeks from order date.
Cylinder capacity: 4
Cylinder diameters supported: Up to 12"
2" square steel tube continuously seam welded
Powder coated finish
Two levels of welded steel chains

 with snaps

5 Pre-drilled 0.531" diameter floor mounting holes
Meets USGS high seismic hazard zone requirements when installed properly
Dimensions: 58" wide x 16" deep x 30" high
Product Weight: 194lbs.
Made in the USA
Pick a location free from vehicle traffic, excessive heat and electrical circuits. It should be a dry and well-ventilated area.
Secure rack to the ground/floor using the appropriate hardware for the material. Typical size bolt is 1/2" by 5 1/2" size. Anchor bolts are not included. Each rack has pre-drilled 0.531" holes in each arm for mounting to ground.
It is recommended that a site survey be completed by the authority having jurisdiction to determine the suitability of the barricade racks at that location and to confirm all local regulations are being followed.
 
Didn't quite find what you were looking for? You need a different color or different dimension?
We're here to help. Please call us at 909-401-2914 or send us an e-mail to sales@karanandassociates.com.